On the morning of June 29, 2022, SEAMEO's Regional Center for Lifelong Learning in Vietnam (SEAMEO CELLL) and Van Lang University (VLU) held a signing ceremony for development and cooperation in the fields of education.
SEAMEO CELLL was established under the Agreement signed by the Government of the Socialist Republic of Vietnam and SEAMEO organization on March 20, 2013, and Decision No. 1561/QD-BGDDT dated April 23, 2012 issued by the Ministry of Education and Training on the establishment of SEAMEO's Regional Center for Lifelong Learning in Vietnam. With the scope of operations within the territory of Vietnam and cooperative activities with organizations and individuals in the region and the world, SEAMEO CELLL meets the needs of the region in promoting Lifelong Learning and creating opportunities for cooperation in the field of Lifelong Learning between SEAMEO members and affiliated countries. In addition, the Center helps to strengthen relationships and enhance understanding among education researchers, education activists and policy makers in the region.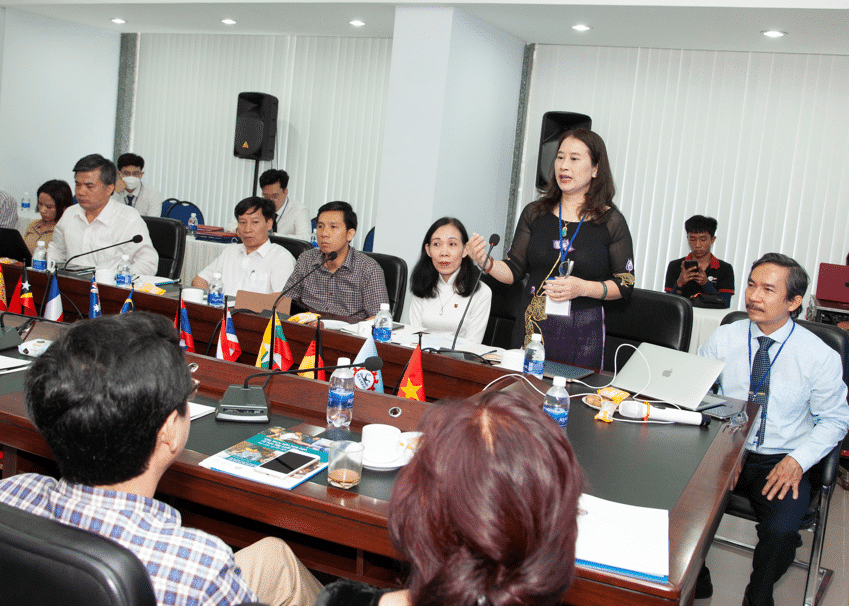 Dr. Le Thi My Ha – Director of SEAMEO CELLL shares the Center's development orientation in the new period
Van Lang University is one of the first private universities in Vietnam, established in 1995, currently growing rapidly with the scale of tens of thousands of students, with more than 100 training programs from undergraduate to doctoral, with its rapidly expanding international bachelor's and master's programs with Liverpool John Moores University (UK), Newcastle University (Australia), Victoria University (Australia), Angelo State University (USA), University Inha (Korea), Asian Institute of Technology (Thailand), City University of Seattle (USA), etc.
Van Lang University is an attractive destination for students nationwide with 3 training facilities and 1 dormitory in Ho Chi Minh Citywith a unique and modern design, a wide range of utility services, creating an environment, conditions for learning and self-development for students, in accordance with the educational philosophy through experiential learning, training and education to create a well-rounded person, capable of lifelong learning, ethics, influence and bringing positive changes to the community.
With the strategic goal in the period of 2020 – 2030 to promote cooperation in training, technology transfer research and community service with universities, research institutes, domestic and foreign organizations, Van Lang University signed a cooperation agreement with SEAMEO CELLL to strengthen cooperation in the fields of education, specifically: (1) Organizing exchanges, cooperation, exchange of lecturers, students and international seminars. economic relations with countries in Southeast Asia, ASEAN and countries around the world; (2) Training lecturers and students to meet high-quality human resources in the country and for the ASEAN region; (3) Coordinating in organizing teaching, learning, testing and granting international English certificates of the English program "Cambridge Linguaskill English Training and Testing Standards" according to the needs of society; (4) Cooperating with the English Language Testing Center of Van Lang University to teach, study, test and issue international foreign language certificates according to social needs; (5) Cooperating in educational consultancy, career guidance, and human resource supply for organizations in need; (6) Cooperating in other fields of education according to the needs of both parties.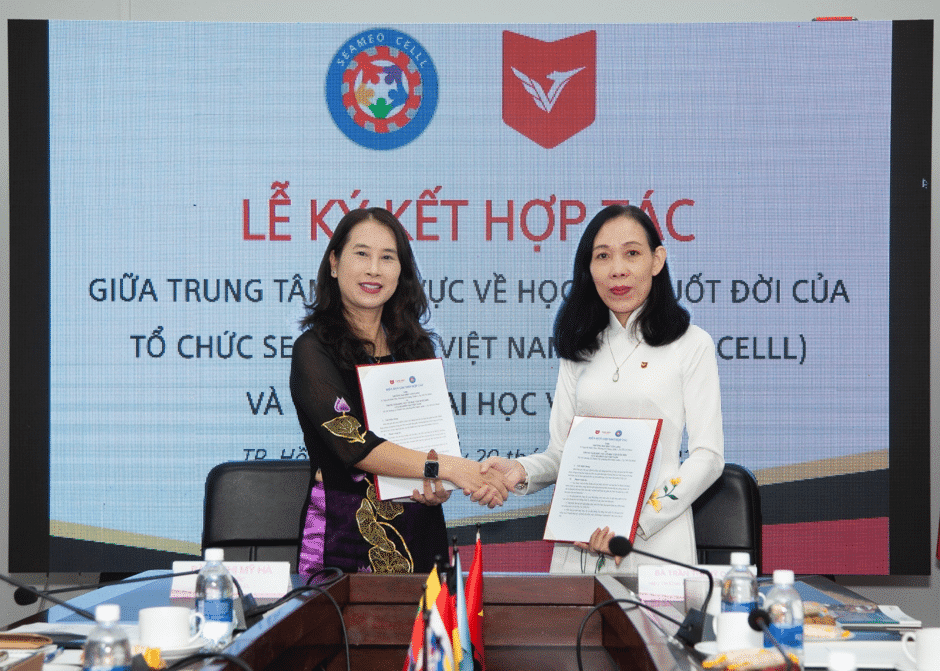 Le Thi My Ha (Director of SEAMEO CELLL) and Assoc. Dr. Tran Thi My Dieu (Principal of Van Lang University) signed the cooperation agreement
The signing of cooperation agreement with Van Lang University is also in the series of activities on the 10th anniversary of the establishment of SEAMEO CELLL, opening a new stage in promoting the Center's development, in order to fulfill its mission of providing education for all.