SEAMEO CELLL WELCOMES ITS NEW DIRECTOR
On 21 February 2022, SEAMEO CELLL welcomed  Dr Le Thi My Ha, its new director at the official introduction ceremony held at the centre. Present at the event were Deputy Minister of Education and Training of Vietnam Dr Nguyen Van Phuc, heads of different ministerial departments, representatives of Ho Chi Minh City Unit of Vietnam Association for Learning Promotion and other governmental agencies. Dr Vu Thi Tu Anh, Deputy Director of Department of Continuing Education, Ministry of Education and Training, attended in the capacity of a representative member of SEAMEO CELLL's Governing Board.
Dr My Ha had been appointed Director of SEAMEO CELLL by SEAMEO Council President on 1 November 2021. On 15 February 2022, the Minister of Education and Training of Vietnam had released Decision No. 488/QĐ-BGDĐT that approved the appointment.
​On this occasion, Dr Nguyen Van Phuc congratulated Dr My Ha on her new role and advised on development directions for the centre, emphasising that lifelong learning is now a global trend as it satisfies the various learning needs of all people in modern life.
Dr My Ha graduated in 1992, majoring in Literature. She received her Master's Degree in the same field in 1999, and Doctorate Degree in Education Administration, specialising in Education Evaluation from Vietnam University, Hanoi in 2013.
Dr My Ha has assumed various managerial responsibilities and been in different leadership positions. Currently, she is Director of the Centre for Education Quality Evaluation, Quality Management Department, Ministry of Education and Training of Vietnam, a responsibility that she has taken since 2011. In this capacity, Dr My Ha is in charge of organising and implementing all national and international assessment programs in the country.
​
In addition, Dr My Ha teaches at universities and research institutes in Vietnam, developing the major of education quality assessment, and providing professional training and capacity building training to education administrators, teachers and trainee teachers nationwide.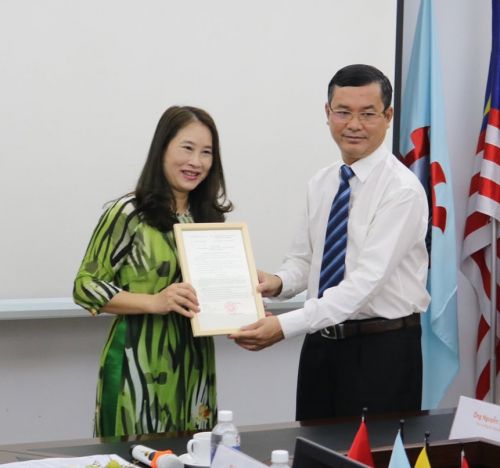 Dr Phuc presents Dr Ha with the Minister's Decision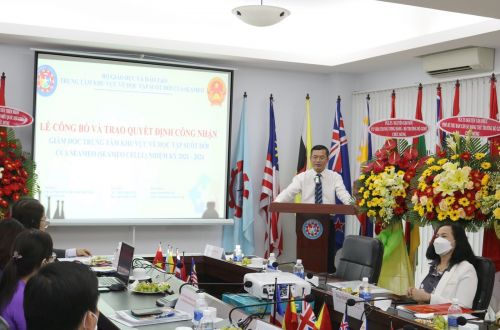 Dr Phuc congratulates Dr Ha on the new responsibility
Through a wide range of responsibilities that she has taken, Dr My Ha has profound experience in leading and managing education organisations and running evaluation programmes. At the ceremony, she expressed her commitment to driving SEAMEO CELLL further on its mission of promoting lifelong learning in Southeast Asia and beyond.


The SEAMEO Regional Centre for STEM Education (SEAMEO STEM-ED) respectfully requests your kind support to promote the regional "STEM Project Competition" to secondary school students and teachers in your networks. The Centre is organizing the competition as part of the Southeast Asian STEM Education Fair and Exposition (SEA STEM Fair & Expo) 2023 […]