On June 29, in a series of educational activities to celebrate the 10th anniversary of the Center's establishment taking place on June 28 and 29, 2022, SEAMEO's Regional Center for Lifelong Learning in Vietnam (SEAMEO CELLL) signed an agreement of cooperation with Hanoi Metropolitan University to develop educational fields.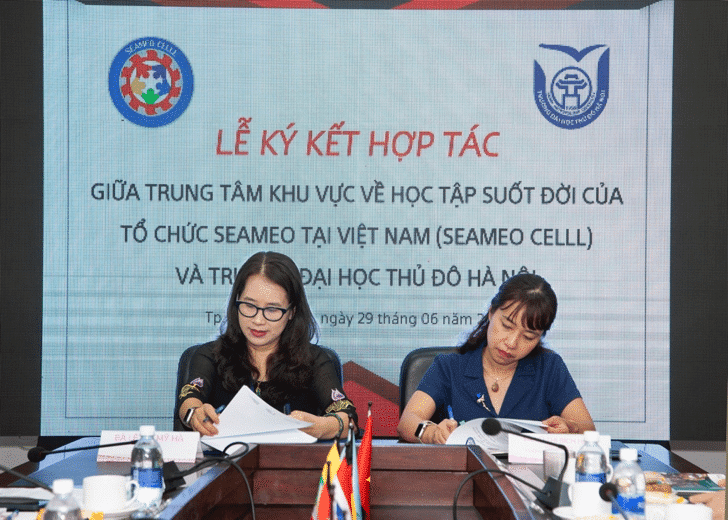 Le Thi My Ha, Director of SEAMEO CELLL Center and Assoc. Nguyen Vu Bich Hien, Principal of Hanoi Metropolitan University signed a cooperation agreement
Hanoi Metropolitan University was established on January 6, 1959 under Decision No. 2402/QD-TTg dated December 31, 2014 of the Prime Minister. Hanoi Metropolitan University is a higher education and training institution in the national education system, organizing training, education and fostering of multi-disciplinary and multi-field human resources at undergraduate and postgraduate levels; organizing vocational education activities, consulting activities, scientific research, applying scientific and technological advances to serve the economic development of Hanoi, the Capital region and the whole country.
Hanoi Metropolitan University covers an area of 9.4 hectares with 03 campuses. The current headquarters of the University is at 98 Duong Quang Ham, Quan Hoa, Cau Giay, Hanoi. The school's facilities are spacious and modern with a total floor area of 37,544 m2, with 13 lecture halls, 37 professional practice rooms, 02 multi-purpose houses, 01 stadium. The university has 9 Library rooms with 300 seats, 14,231 paper documents, 15,044 digital documents, linked to more than 100 libraries to meet the teaching, learning and research needs of lecturers and students.
The university currently has 8 training faculties, 6 functional departments and 8 affiliated units with a staff of 376 officials, lecturers and employees (01 Professor; 07 Associate Professors; 72 PhDs; 233 Masters (32 NCS). Currently, the University is training 2 Master training programs, 24 undergraduate training programs.
The school is very interested in the development of scientific research. Each year, the University's staff and lecturers have about 40 international publications and 80 domestic publications; 01 state-level project, 01 city-level project, more than 40 grassroots-level projects; organized and compiled nearly 30 textbooks and 50 reference books, treatises, manuals…. Each year, the school organizes 03 national seminars, 10 school-level seminars, 50 unit-level seminars; creative start-up activities, Student research activities, etc.
Currently, the University cooperates with more than 140 domestic and foreign units. The units cooperating with the school are scientific and educational organizations, socio-political organizations, training institutions, research institutes, system of high schools, enterprises in various fields such as industry and industry. technology, economics, logic, tourism, media, hotels, resorts, etc.
The school has been certified to accredit higher education institutions in 2020 and is certified to accredit 3 training programs and is conducting internal evaluation of 6 training programs.
The signing ceremony of cooperation between SEAMEO CELLL Center and Hanoi Metropolitan University was held on the morning of June 29, 2022. This is a strategic partnership program between SEAMEO's Regional Center for Lifelong Learning in Vietnam and Hanoi Metropolitan University with the main goal of opening up global opportunities for teaching staff, students in the field of education, specifically in the following contents: (1) Cooperating in training, fostering and scientific research of officials, lecturers and learners through appropriate program contents with the capacity and duties of each party; for example, training and fostering the English program "Cambridge Linguaskill English Language Testing and Training Standards" or teaching Vietnamese programs for overseas Vietnamese, etc.; (2) Cooperating in recruiting, introducing and supplying human resources, meeting the demand for labor resources for enterprises, administrative and non-business units; (3) Cooperating and supporting learners and lecturers in the process of practice, practice, supplementing knowledge and learning materials; and (4) Cooperating in communication and brand development of both parties.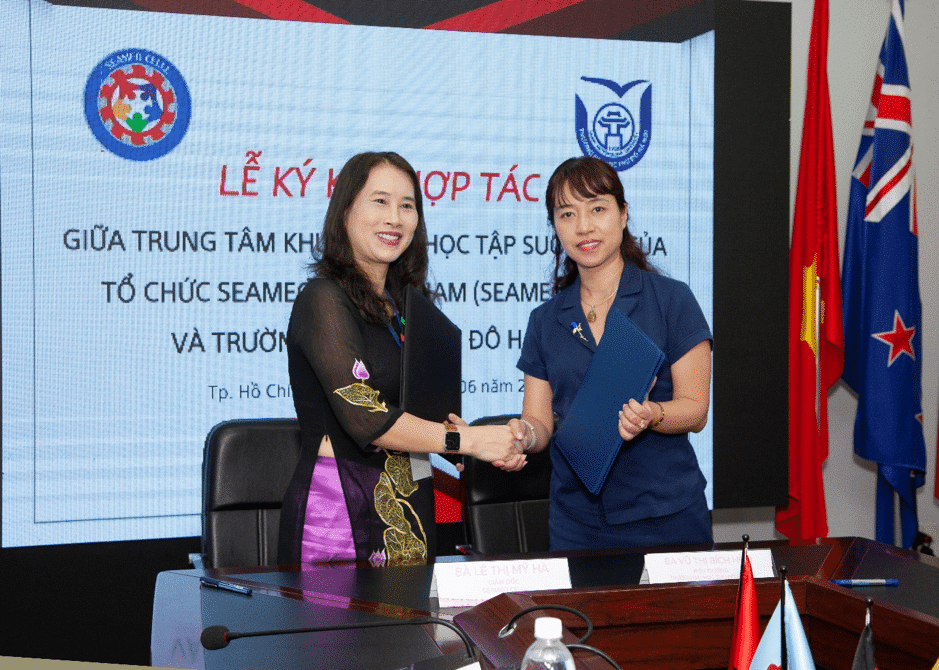 Director of SEAMEO CELLL and Principal of Hanoi Metropolitan University signed a cooperation agreement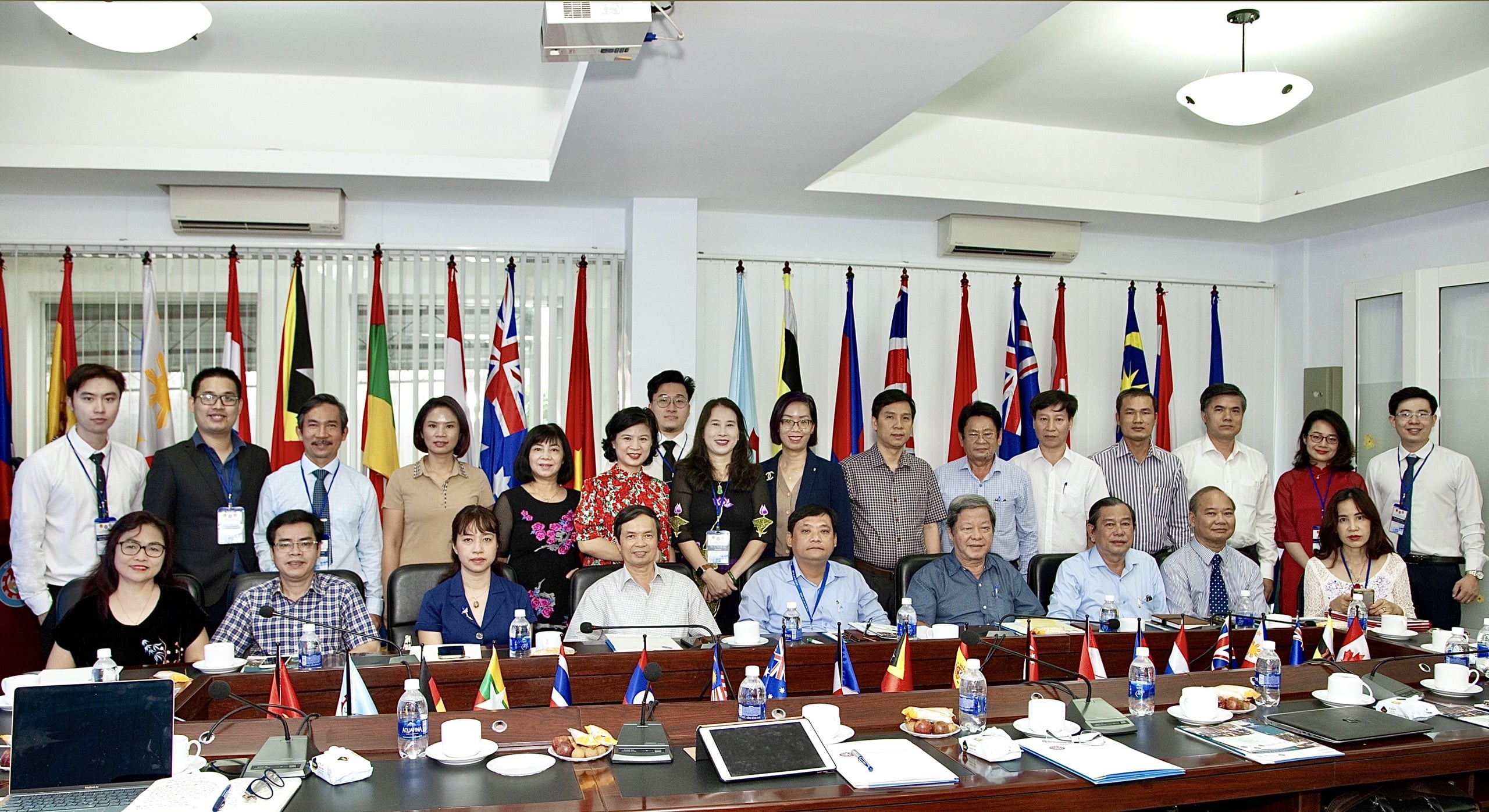 Delegates attending the Ceremony
Attending the signing ceremony were representatives of SEAMEO CELLL, Hanoi Metropolitan University and representatives of a number of units under the Ministry of Education and Training, Ho Chi Minh City Department of Education and Training, Study Promotion Association, several representative universities nationwide such as Van Lang University, Mekong University, Hong Duc University and some other domestic and international educational institutions. The signing ceremony took place successfully, marking a strong and close cooperative relationship between SEAMEO's Regional Center for Lifelong Learning in Vietnam (SEAMEO CELLL) and Hanoi Metropolitan University.