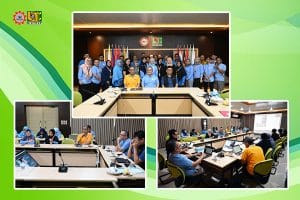 SEAMEO BIOTROP hosted a hybrid event titled "Monday Mind Cloud Idea: Corporate Social Responsibility (CSR) towards Human Resources." The event took place both physically at Jati Room, SEAMEO BIOTROP, and virtually via Zoom, participated by SEAMEO BIOTROP's managers, supervisors, staff, and the general public. The event was conducted on 20 November 2023.
Mr. Jalal, Co-founder of A+ CSR Indonesia and Board Member of the Institute of Certified Sustainability Practitioners (ICSP), graced the event as the keynote speaker, delving into the realm of CSR and its potential implementations within SEAMEO BIOTROP or the utilization of CSR by the institution.
The session illuminated modern CSR management concepts capable of elevating stock values in the market. Mr. Jalal emphasized the necessity of an internationally managed fund, the latest discourse, and the practices revolving around corporate responsibility.
Referencing the 1970s and Friedman's doctrine, it was highlighted that while companies aim to maximize profits for their owners, adherence to legal compliance and ethical business within certain boundaries remains imperative. Mr. Jalal emphasized the need for a statement of purpose within companies that extends beyond profit-seeking. It should focus on how a company positions itself to tackle environmental, societal, and economic issues.
CSR was underscored as a means of mitigating impacts through various strategies and initiatives, along with insights into planetary boundaries and the Stockhold Resilience Centre's 2023 projections.
The concept of a "doughnut economy" was introduced, portraying a healthy economy as one that meets all social needs without surpassing ecological support limits.
The presentation further elaborated on evolving sustainability models, considering economic, social, and environmental aspects. Notably, the environmental facet emerged as paramount, aligning with societal interests, while the economy acted as a supportive element.
Highlighting that 71 out of 100 major entities worldwide are corporations, not countries, Mr. Jalal emphasized the potential for persuading companies to become better and more sustainable, thus contributing to a better world.
In conclusion, Dr. Perdinan, the moderator, synthesized three key points: employee perspectives, roles and contributions, and income targets, emphasizing the significance of recognizing education as a catalyst for inspiring a joyful learning environment.
MOMICloudia, or Monday Mind Morning Cloud Idea, is an activity aimed at enhancing the capacity of all SEAMEO BIOTROP staff and is also open to the public. This event has been regularly organized since 2021.